ABOUT AIHM
Dr. Ambedkar Institute of hotel management, catering and nutrition, Chandigarh was set up in the year 1990 in a Government Sarai Building Sector 32-A, which was provided by the Union Territory Administration, Chandigarh .
It is one of the 21 Central IHM's setup by Ministry of Tourism, Govt of India and affiliated to NCHMCT TO Train young men and womens to provide manpower for the hospitality industry. The institute was shifted from Government Sarai Building to its own building at Sector 42-D, Chandigarh on. 16th September 1996. The new building of the Institute is situated among lush green surroundings of the Le Courbusier's City beautiful.
We not only lay stress and emphasis on creating professional skills but also encourage various other curriculum activities to develop an overall personality of the candidate through experiential learning ,which enable the student to acquire knowledge and skills expected in the hospitality industry .It can be proudly said that the students of this institute have been achieving top all india merit positions and also securing almost 100% job placement over the years.
We are an autonomous body affiliated to NCHMCT (National Council for Hotel Management and Catering Technology), which is guided and controlled by Ministry of Tourism , Government of India.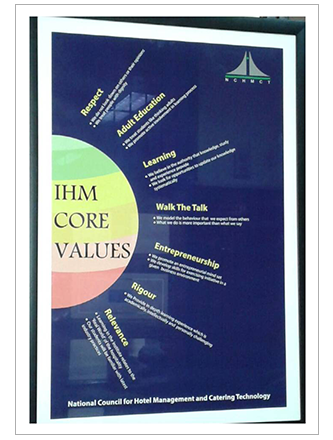 VISION
To be a Centre of Excellence in Innovative Interdisciplinary and Qualitative Hospitality Education. To create environment for Experiential learning and applied research. To prepare professionals to thrive in and contribute to an ever changing global society.
MISSION
To impart Hospitality education to students for becoming successful professionals at Global level.
CORE VALUES
Institute's ethos is central to its mission and attributes its success to seven core values: