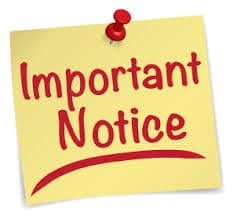 DR. AMBEDKAR INSTITUTE OF HOTEL MANAGEMENT, CHANDIGARH.
FINAL EXAMINATION FORM 2019-20
IMPORTANT NOTICE FOR MID TERM & END TERM EXAMS APRIL/MAY, 2020
National Council for Hotel Management & Catering Technology, Noida vide its email dated 15-01-2020 has informed that students can improve their Internal Assessment marks by appearing in the Mid Term Examination as scheduled by this institute. Such students must compulsorily appear in the End Term Exams theory examination for that subject.
As such, Students of 2nd, 4th & 6th Semester, who have got re-appear/fail and are interested to improve their Mid Term Exam marks, are eligible to appear in Mid Term Theory Exam, 2020. They are required to submit Exam Fee of Rs. 600/- per subject for Mid Term Theory Exam as well as End Term Theory Exam particular that subject. The Examination Form duly filled be submitted to Sh. Amit Kumar in the Administration office (AV Room) along with two passport size photographs and should write Name/NCHMCT Roll No. on the back side of one Photograph as per schedule given below:-
LAST DATE FOR SUBMISSION OF FORMS IN THE INSTITUTE FOR THOSE STUDENTS WHO WISH TO IMPROVE MID TERM MARKS ALSO
| 2nd Semester | 4th & 6th Semester |
| --- | --- |
| 27-02-2020 | 30-01-2020 |
LAST DATE FOR SUBMISSION OF FORMS IN THE INSTITUTE FOR REGULAR/RE-APPEAR STUDENTS WHO WISH TO APPEAR FOR TERM END EXAMS ONLY
| | 2nd Semester & Diploma End Term | 4th and 6th Semester End Term |
| --- | --- | --- |
| Without late fee | 28-02-2020 | 14-02-2020 |
| With late fee of Rs.500/- | 13-03-2020 | 28-02-2020 |
| With late fee of Rs.1000/- | 27-03-2020 | 13-03-2020 |
| Reappear Subject Theory | Rs. 300/- Per Subject |
| --- | --- |
| Reappear Practical Subjects | Rs. 500/- Per Subject |
| Failure students (All Subjects) | Rs. 2500/- for 2nd, 4th, 6th Sem. & DFP |
Payment Mode :
Students can submit their fee Online by visiting the SBI
COLLECT website
Principal
NO: IHM/ADM/2K20/3519
Dated:20-01-2020